Click Photo And All Links Below This ball handling weak ? and it will not work on this generation ?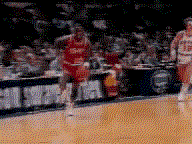 http://www.complex.com/sports/2013/03/an-nba-coach-believes-michael-jordan-played-against-men-while-lebron-james-plays-against-young-boys
Let's Remove Numbers, Stats,Records and Loyalty Issue !
Two Words : Talent And Skill
Generally the two has great skill and talent
I think at this early stage I will laugh At you If you insist that Lebron skill and talent is better than jordan !
The Edge Of LBJ is only on physical level, he has the built of Karl Malone and moves like Derrick Rose But i Still Pick The Cross-over
Moves Of D'Rose
How About Mj Cross-over ? ( Hey Dj Scratch' Hit It ! 0('-')0 )
Mj is natural shooting guard and he has only Kevin Durant body during his prime, maybe if his muscles in 96'97'98 Season is already developed in mid 80's ( His Rookie Stage ) At That Stand Point' A One On One Match With Lebron I Think Mj Can Guard Lebron. How About The Low Pose Fade Away Jump Shot Of Mj ? Do You Think Lebron Can Stop That In A Man to Man Match Game ( That Is Almost A Sky Hook Shot Of The Great Also Abdul Jabbar 0('-')0)
Shooting ,Ball Handling, Stealing, Rebounds and Dunks ?
We all know that's all basic in basketball and the two is capable in that aspect.
Good defends and Good offense ?
Same Result ! (The two is also capable, let's not count the buzzer beater game 0('-')0 That Will be too Obvious
)
Lets see their killing tools ?
Explore youtube i will cut my finger if you will not see a Mj video out there driving with a wild dunk meron pang "pakapin" labas dila at may mga sumasabit pa 0('-')0
Mj low pose fade away jump ?
I think you can find also out there on Lebron but i think its minimal 0('-')0
Mental Level ? ( Willing To Sealed and Win a Game On A High Pressured Level ) " Crunch Time Baby "
If You Gonna Choose Between The Two To Become General (Military Ranking Position) Who You Gonna Pick ?
I Think Mj Posses Main
ingredients
- He's Great Thinker And Do'er ! He has The Ability To Imposed And Influenced Player To Execute A Winning Game. " Steve Kerr Moment ? 0('-')0 Ohhh lalah' Can't You Remember That Thing Bro's ?
Lebron is a complete player ! and Mj is not ????
( Mj Can't do A Highlights Assist ??? )
0('-';)0 hahahaha...
For Fairness Reason : Lebron 's Career Is Still In Progress Level , Who Know's ....
NBA's Game Is Everybody's Ball Game.
Even James Surpassed The Records , Baka Sasabihin Ko Parin Na Papantay Lang Cguro Si Lebron Kung Talent At Skill Ang Pag uusapan , Pagdating Sa Aspeto Ng Game Mentality , Charisma And Unnatural Execution on the game i Will Still Pick " The Air And The Shoe 0('-')0 "
Photo Above Is not Edited Thats Mj Natural Mannerism in Hard Court 0('-')0 Its purely coincidentally pointing on Lebron face. Im Not Lebron Critic i Just Want To Put Things In Proper Place.
http://www.youtube.com/watch?v=JUwitHvclwc